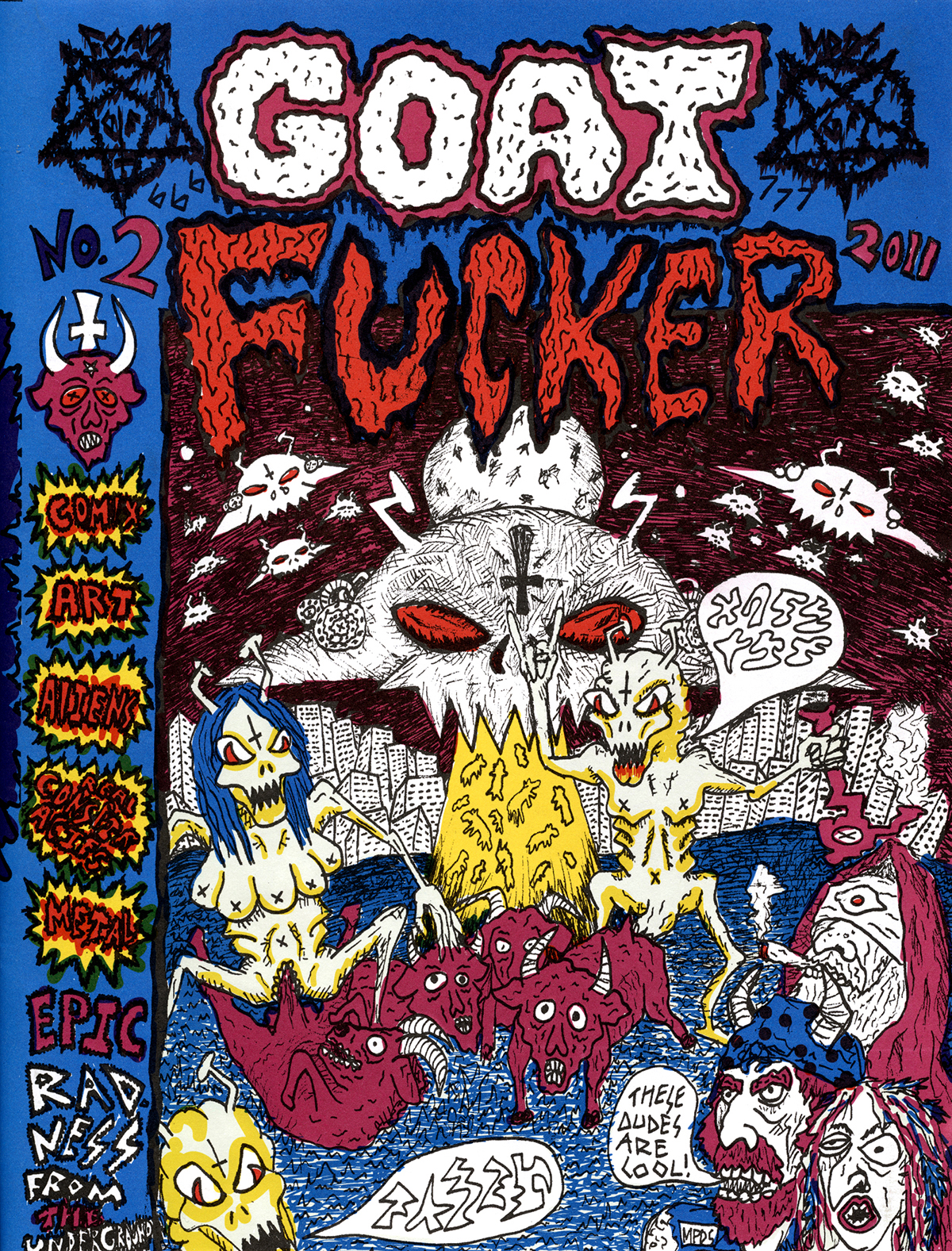 Gore, Guts, Grind, and Genitals.
This issue takes a leap from the previous issue by bringing back former artists and introducing new ones. Chief editor Jack Mulkern returns with the most alien like dicks you've ever seen. Reminds me of when I was a little kid and I went to the pool locker room for the very first time and I was weird out from seeing all these stranger's genitals. Only these ones are out to destroy the world! Talk about symbolic misandry!
Randall Parker returns with another psychotic center spread. This time he moves from ritualistic free-mason orgies to illuminati galactic destruction. Chaos everywhere in this annual Where's Waldo of a spread. Can you find the volcano?
Rob Steinberg returns with fuzzy fuckery in a collage as well as joining Jack Mulkern on the epic conclusion to the Krillboy series long a waited since it's six page introduction. This story is filled with aliens, gore, as well as references to nazi conspiracies, Jack Kirby, and a no longer existent company based around entomophagy. So exactly what one thought the previous Krillboy story was missing.
Ryan Pfieffer returns with a mixture of more occult lessons as well as crazy collages.
Magda Piech returns stepping away from BDSM art and moving towards octopus fetishes. I suddenly want to eat calamari out of a woman's asshole, and her art will make you feel the same way.
Ryan Bock once again brings geometric expressionist evil.
Pete Hillstrom does the most offensive drawing, a portrait of Rick Perri.
Kevin Stanton dishes out some gnarly spray paintings.
Tell me, is this not gruesome enough for you yet? Well fuck you, weirdo who answers rhetorical questions!
Putrid brings out some disturbing drawings to please to necrophile inside all of us we wish we didn't know about.
Also others. So many others!
Do you think the reason world maps make their cuts (as well as time zones) over the pacific ocean because it cuts off countries only rich people are supposed to know about? or is it the islands that make up our garbage that we can no longer put into landfills? I think the borders of maps are lying to us. Do people live on these islands?
For the past several weeks I have been throwing away art and meals I bake in hopes that it will be given to the people on the garbage island so we could create some sort of friendship. This seemed like a good idea at the time. The problem is, that I live next to a thrift store. The thrift store has become so popular amongst hipster kids that to fill with demand, the store has been dumpster diving for more items. I mean they sell items that people don't want anyways so who can blame them, but now I'm starting to see my art work and baked goods sitting on their window sills. Kids are wearing the very brownies I baked and the thrift stores make the profit.
I could call the police and tell them that going through my garbage is an invasion of my privacy, but I'm not exactly without sin myself, I read my neighbors mail. Not all their mail, just the junk mail that i receive as well like about magazine subscriptions because I often wonder if companies personalize the ads that they send out to each house. I mean, it would make more sense if they did personalize the junk mail. Google tracks our searches so that we get personalized pop-up ads, so if junk mail wants to keep up with the times it should do the same.